Publications
Select the year of publication...
...or go to the
Recent Publications

Illumination of Conjugated Polymers Reduces Nucleation Probability and Slows Down Crystal Growth Rate
Yaser AlShetwi, Brahim Bessif, Michael Sommer, Günter Reiter. Macromolecules 54, 2021, 11478–11485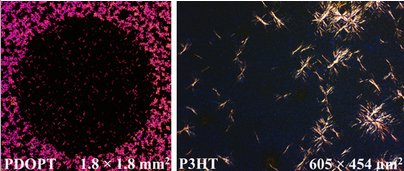 Using the set-up of an optical microscope, we have examined the influence of illumination with white light on the crystallization behavior in molten films of poly(3-(2,5-dioctylphenyl)thiophene) and poly(3-hexylthiophene). We observed a reduction in nucleation density and crystal growth rate induced by illumination. The amount of this reduction increased with the increase in light intensity. Melting samples previously crystallized under illumination and recrystallizing them in the dark showed full reversibility of the crystallization behavior, demonstrating that these changes in the crystallization behavior induced by illumination were not permanent. (mehr...)
---

Semi-crystalline poly(thioether) prepared by visible-light-induced organocatalyzed thiol-ene polymerization in emulsion.
Cuong Minh Quoc Le, Gautier Schrodj, Ibrahima Ndao, Brahim Bessif, Barbara Heck, Thomas Pfohl, Günter Reiter, Justine Elgoyen, Radmila Tomovaska and Abraham Chemtob. Macromol. Rapid Commun. 2021, 2100740

A photocatalytic thiol-ene aqueous emulsion polymerization under visible-light is described to prepare linear semicrystalline latexes using 2,2'-dimercaptodiethyl sulfide as dithiol and various dienes. The procedure involves low irradiance (3 mW cm–2), LED irradiation source, eosin-Y disodium as organocatalyst, low catalyst loading (< 0.05% mol) and short reaction time scales (< 1 h). The resulting latexes has molecular weights of about 10 kg mol–1, average diameters of 100 nm and a linear structure consisting only of thioether repeating units. (more...)
---

An investigation on the heat dissipation in Zn-substituted magnetite nanoparticles, coated with citric acid and pluronic F127 for hyperthermia application
Sara Shatooti, Morteza Mozaffari, Günter Reiter, Diana Zahn, Silvio Dutz. Physica B: Physics of Condensed Matter 625 (2022) 41346856

Zinc substituted spinel ferrite nanoparticles are appropriate for magnetic fluid hyperthermia. Stable suspensions of Zn²⁺ substituted magnetite (ZnxFe3-xO4, 0 = x ≤ 0.20) nanoparticles in aqueous solutions (pH 5.5) were synthesized by means of co-precipitation approach, using citric acid (CA) and pluronic F127 as surfactants for hyperthermia application. The specimens were characterized by different methods. XRD patterns of the precipitates confirmed that all specimens have single phase cubic spinel structures and their lattice parameters increased as Zn²⁺ content increased. Mean crystallite sizes of the uncoated specimens were determined to be around 28 nm, using Scherrer's formula. By increasing the Zn²⁺ content, Curie temperature of the uncoated specimens reduced from 545 to 410 °C monotonically caused by reduction in super-exchange interactions. [mehr...]
---

Successive melting and crystallization of poly(3-hexylthiophene) in the melt-memory domain versus isotropic melt domain
Mina Alizadehaghdam, Farhang Abbasi, Günter Reiter. Journal of Materials Science 56 (2021) 19723–19737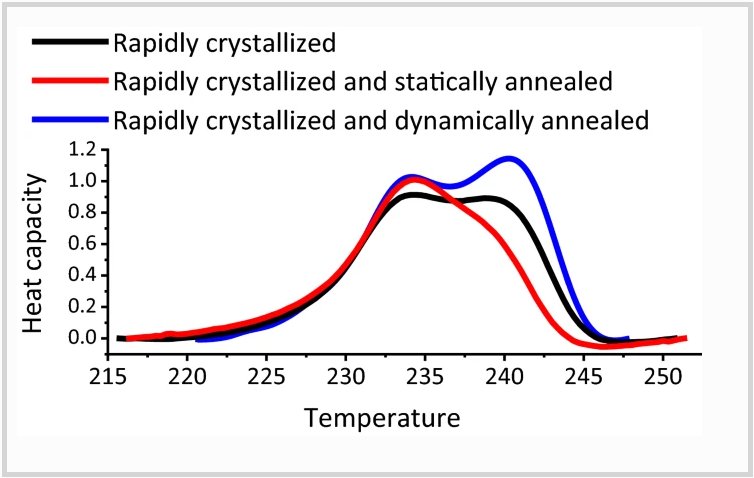 We studied the influence of self-nuclei of poly(3-hexylthiophene), present at different temperatures in the melt-memory domain, and thermal polymer degradation during repeated cycles of melting and recrystallization. During a rapid crystallization by cooling from an isotropic melt to low crystallization temperatures, we observed two populations of crystals characterized by melting temperatures differing by ca. 6°C. Intriguingly, the population with the higher melting temperature disappeared upon ''static annealing'' at temperatures well below the melting point, which was accompanied by an increase in the amount of the component with the lower melting temperature. [mehr...]
List of Publications
Cuong Minh Quoc Le, Gautier Schrodj, Ibrahima Ndao, Brahim Bessif, Barbara Heck, Thomas Pfohl, Günter Reiter, Justine Elgoyen, Radmila Tomovaska and Abraham Chemtob. Macromol. Rapid Commun. 2021, 2100740

Yaser AlShetwi, Brahim Bessif, Michael Sommer, Günter Reiter. Macromolecules 54, 2021, 11478–11485

Mina Alizadehaghdam, Farhang Abbasi, Günter Reiter. Journal of Materials Science 56 (2021) 19723–19737

S. Shatooti, M. Mozaffari, G. Reiter, D. Zahn, S. Dutz. Scientific Reports 11 (2021) 16795

Weixiang Chen, Brahim Bessif, Renate Reiter, Jun Xu, Günter Reiter. Macromolecules 54 (2021) 8135–8142

Brahim Bessif, Thomas Pfohl and Günter Reiter. Polymers 13 (2021) 1676

Jun Xu, Günter Reiter, Rufina G. Alamo. Crystals 11 (2021) 304

Yaser AlShetwi, Daniel Schiefer, Michael Sommer. Günter Reiter. J. Phys. Chem. B 125 (2021) 5636–5644

Zhixin Guo, Shouke Yan, Günter Reiter. Macromolecules 54 (2021) 4918–4925

Konstantinos Roumpos, Sarah Fontaine, Thomas Pfohl, Oswald Prucker, Jürgen Rühe, and Günter Reiter. Scientific Reports 11 (2021) 13149

Baode Zhang, Marialaura Clausi, Barbara Heck, Susanna Laurenzi, Gabriella Santonicola, Janis Kleperis, Andris Antuzevičs, Guenter Reiter, Andrey Aleshin, Anatoly Lobach. ACS Appl. Mater. Interfaces 13 (2021) 24218–24227

Deepika Sharma, Roderick Y. H. Lim, Thomas Pfohl and Yasin Ekinci. Microsystems & Nanoengineering 7 (2021) 46

Deepika Sharma, Roderick Y. H. Lim, Thomas Pfohl, and Yasin Ekinci. Part. Part. Syst. Charact. 2021, 38, 2000275

Konstantinos Roumpos. Inauguraldissertation der Fakultät für Mathematik und Physik 2021. DOI: 10.6094/UNIFR/194127

Emna Khechine. Inaugural-Dissertation zur Erlangung des Doktorgrades der Fakultät für Chemie und Pharmazie, 2021

Markus Mader, Oliver Schlatter, Barbara Heck, Andreas Warmbold, Alex Dorn, Hans Zappe, Patrick Risch, Dorothea Helmer, Frederik Kotz, Bastian E. Rapp. Science 372 (2021) 182-186

Tianyu Wu. Inauguraldissertation der Fakultät für Chemie und Pharmazie 2020, DOI: 10.6094/UNIFR/167415

Abhijna Das, Sebastian Noack, Helmut Schlaad, Günter Reiter, Renate Reiter. Langmuir 36 (2020) 8184–8192

Bernd Wittmann, Stephan Wiesneth, Sajedeh Motamen, Laurent Simon, Françoise Serein-Spirau, Günter Reiter, and Richard Hildner. Journal of Chemical Physics 153 (2020) 144202

Po-Tsun Chen, Ya-Wei Yang, Günter Reiter, Arnold C.-M. Yang. Polymer 204 (2020) 122753